I can't tell how much I looovee vector graphics!
Here's a set of vector textures as well can be used as bases.
Includes a zip file of 21 icon-sized images.
P r e v i e w :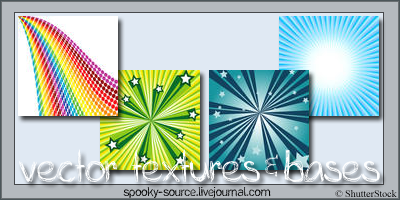 Download link is under the cut.
(as for now on the download link is private)
If you want to pick them one by one also look inside the cut!
Vector set of textures/bases:
Download link @ MediaFire
ONE BY ONE PICKING


01,02,03

04,05,06

07,08,09


10,11,12



13,14,15


16,17,18

19,20,21
Usual rules apply;
~~Credit
spooky_source
if you download and use
~~Comment if you download to let me know
~~Tell me if something goes wrong with downloading process
~~Enjoy and be creative ! *thumbs up* :D